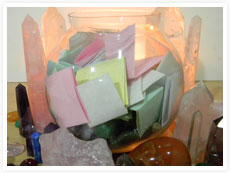 Is there something you yearn for, desire deeply? Something that would make your life feel fuller, more complete?
A new car, a rise in your income, your elusive soul mate… whatever you desire deeply. The scope of your desires is limited only by your imagination.
Remember to
 Desire it deeply and completely.  Keep it short, clear and positive.  Keep it in the present tense.  Keep it realistic and precise.
By committing your desire to paper you start a powerful process of manifestation. In order for it to manifest fully however, it requires to be nurtured and energized on a regular basis. This is where The Intention Bowl comes in.
How does the bowl work? Well, this healing bowl has a base of semi-precious stones and crystals for your intention to rest on. The crystals purify the energy of your intentions and attract positive energy to your desires. Fortified by pyramid energy and regularly doused in pure light, your wishes are given the best possible environment to grow and bloom into reality.
May your happiest dreams come true. And don't forget to let us know when they do.
To place your wish in The Intention Bowl click here.