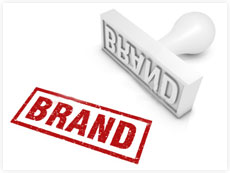 Small business or a multinational, your branding design is what sets you apart and defines your company's future. Your corporate identity or logo possesses a distinct energy of its own and has the potential to grow your company or slow it down. This is not surprising as your Logo defines who you are, your values, your work ethic, your profitability, your employee loyalty and everything imaginable.
The simplest of questions to ask are "Is there room for growth?", "Are we giving and getting the best from our employees?" and "Can our profit margins grow?"
A quick look at some famous logos should help you understand this concept better. Consider Citibank.

Their distinctive 'Umbrella' makes them a safe bet for investors. The flip side however is a crushing demand on their employees to perform.

Even more vivid is the Enron logo, lopsided and struggling to balance itself, it ended up falling down.
A Logo Analysis will help you understand the subtler aspects of what energy signal your company in projecting, both to the public as well as to your employees. Further you will be able to understand whether it is employee apathy, internal politics or lack of direction that is slowing your company's success.
So, what does the ideal logo look like? What device will bring you success? The fact is there is no hard and fast rule for logos. The question to ask instead is "What does your company want to achieve?"
Changing your Logo is a process. Quick copy-paste jobs of famous logos are definitely not the way to go about developing your identity. What may suit someone else could end up being a destructive influence on your dreams.
The first step to changing your company device is for you to desire to grow beyond your horizons and to expand your vision and that of your company. What follows is introspection on your end to gain clarity regarding your goals and aspirations.
Then calculating your elements and that of your company, we help you to home in on certain symbols that are in keeping with your ideologies and your goals. Our basic premise is to ensure that your logo reflects and attracts the success you have been working so hard to achieve.
You also have the option of working with our in house logo designer who will build your company a custom logo design, keeping in mind the subtle aspects of the energy we are structuring for your company.
So take the first step to changing the destiny of your company now. Get a free analysis of your current logo and discover your company's potential for growth.